By Nizar Manek – Bloomberg
Disposals would be ahead of a potential stake sale in carrier
New leader Abiy is opening nation up to foreign investors
Ethiopian Airlines Enterprise is emerging as the flag bearer of plans by Africa's fastest-growing economy to open up to foreign investors after decades as a closed shop.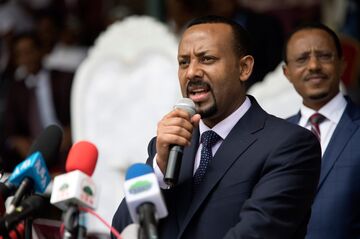 While new Prime Minister Abiy Ahmed's ruling politburo has said a minority stake in the continent's largest carrier could be up for grabs, Chief Executive Officer Tewolde GebreMariam now adds that related assets such as airports and a five-star hotel could also be sold off. That would give investors an opportunity to take ownership in businesses that were nationalized in the 1980s under the former Communist Derg regime.
Ethiopia needs about $7.5 billion to finish current infrastructure projects and is also battling foreign-exchange shortages, Abiy said earlier this month. The sale of airline-owned real estate may be easier and quicker than, for example, a privatization of the much coveted Ethio Telecom monopoly, which the Horn of Africa nation plans to split in two and sell down following two years of study. Railways, sugar mills and power-generation companies will also be considered for stake sales.
Below are a list of assets highlighted by Tewolde as ripe for disposal.
Ethiopian Skylight Hotel

What will be the country's largest hotel has five stars and is being built near the international airport in Addis Ababa
"The first stage of foreign participation will be the hotel," said Tewolde
"We want expertise, capital in the hotel. We have finished first phase, but there will be second phase."
Hoteliers with a strong Africa presence include Marriott International Inc., which has some executive apartments in Addis Ababa
Accor SA, Europe's biggest hotel operator, has announced plans to expand on the continent; neither company responded to requests for comment

Cargo Airline & Logistics Co.

Ethiopia is Africa's second-biggest producer of flowers after Kenya and fourth-equal worldwide according to Rabobank research
Ethiopian Airlines owns a 150,000-square-meter (1.6 million-square-feet) cargo hub with capacity for 1 million metric tons of fresh produce a year
"Logistics is a sector with government or national concern" as Ethiopia focuses on producing industrial goods for export to the U.S. and Europe, Tewolde said
"We do not have global standards for logistics in Ethiopia today"
The division could be converted into a joint holding with Deutsche Post AG holding a 49 percent stake "within weeks"

Ethiopian Airports Enterprise

The carrier owns 23 domestic airports, according to its website, from Addis Ababa to Arba Minch
Additionally, the airline develops and operates airport shopping centers, cafeterias, banking kiosks, internet services and parking facilities

Aerospace Manufacturing

To extend Ethiopian's Maintenance, Repair & Overhaul Services, negotiations are under way with companies including Boeing Co., Airbus SE, Bombardier Inc and Safran SA, according to Tewolde.
Source: Bloomberg
AddisNews is not responsible for the contents or reliability of any other websites to which we get contents from and provide a link and do not necessarily endorse the views expressed by them.